"SPECIAL" DOB: 2/18/2007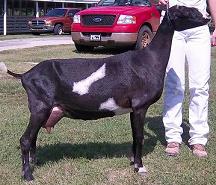 3 year old 3rd freshening.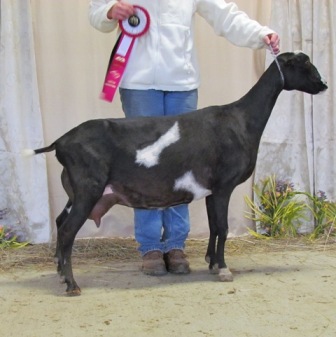 4 year old 4th freshening. 5 years old 2 weeks before kidding
Our first show out in 2011 Special got her third leg winning Grand at the Conway AR show. On 11/17/11 Special received her Superior Genetics(SG) designation.
Special lives up to her name. She is long, open with great spring of rib and very dairy. Terrific foreudder and smoothly blended with a high wide escutcheon.
| | | | | | |
| --- | --- | --- | --- | --- | --- |
| Age | Lac | DIM | Milk | Fat | Protein |
| 1 | 1 | 154 | 2100 | 99 | 64 |
| 3 | 3 | 152 | 2210 | 85 | 75 |
| 4 | 4 | 252 | 2561 | 102 | 83 |
| 5 | 5 | 53 | 590 | 23 | 17 * in progress |
| | | | | | | | | | | | | | | |
| --- | --- | --- | --- | --- | --- | --- | --- | --- | --- | --- | --- | --- | --- | --- |
| LA Year | Age | Head | Shoulder Assembly | Front Legs | Rear Legs | Feet | Back | Rump | Udder Texture | General Appearance | Dairy Character | Body Capacity | Mammary System | FS |
| 2009 | 02-03 | + | V | V | V | A | E | V | V | V | E | E | E | 89 |
| 2008 | 01-03 | + | + | + | + | + | + | + | V | + | V | A | V | 84 |
SPECIAL'S KIDS

































S: KRISHELLEN DARK COMMAND




























SS: ONE*OAK*HILL TWEED JROOSTER *B

SSS: GCH ONE*OAK*HILL MAC TUMBLE WEED ++*

Picture courtesy of Gatewood Farm/One*Oak*Hill

SSD: ONE*OAK*HILL MAC JARUPA 1*M

Picture courtesy of Gatewood Farm/One*Oak*Hill




SD: SGCH KRISHELLEN DARKTIME




SDS: LASSENWOOD TUMULT VIRTUOSO *B

SDD: SGCH KRISHELLEN NAPTIME



















D: SGCH KRISHELLEN EZSPIRIT
















DS: CH WINTERWOOD'S TYPHOON *B

DSS: GCH COMPANEROS PIERRE DIVIDEND ++*B

DSD: SGCH WINTERWOOD'S L WILDWIND 2*M




DD: KRISHELLEN EZSPRIT

DDS: GCH YAZZ PATRIOT ++*B

DDD: CH KRISHELLEN MARY JANE