"VELVET" DOB: 3/07/2005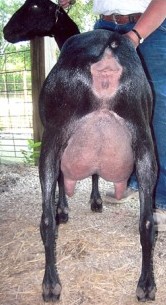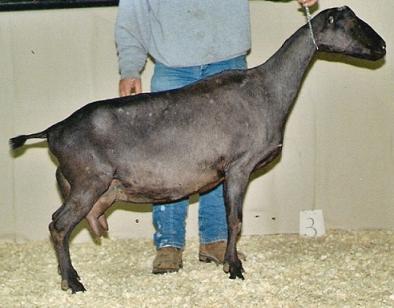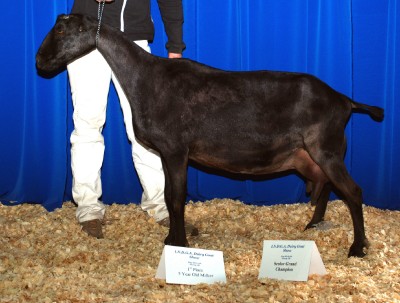 2 years 1st freshening. 3 year old 2nd freshening. 4 year old 3rd freshening.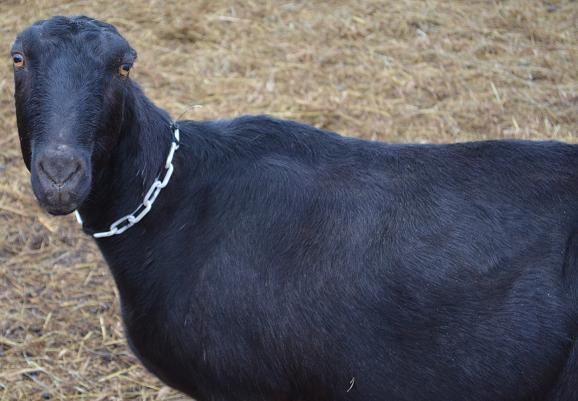 We lost Velvet kidding 2/20/2012, this is the last picture taken of her, she will be greatly missed.
Velvet won Grand and Best of Breed at the 2010 District 5 specialty finishing her Championship. Velvet is retired from showing, she really did not like to show, she is much happier staying at home then she ever was showing.
Very upstanding, long, open ribbed and deep bodied doe. Wide flat rump and wide between the hocks. A beautiful mammary, wide rear udder, excellent attachment and smoothly blended foreudder.
| | | | | | |
| --- | --- | --- | --- | --- | --- |
| Age | Lac | DIM | Milk | Fat | Protein |
| 5 | 4 | 262 | 1840 | 49 | 53 |
| | | | | | | | | | | | | | | |
| --- | --- | --- | --- | --- | --- | --- | --- | --- | --- | --- | --- | --- | --- | --- |
| LA Year | Age | Head | Shoulder Assembly | Front Legs | Rear Legs | Feet | Back | Rump | Udder Texture | General Appearance | Dairy Character | Body Capacity | Mammary System | FS |
| 2009 | 04-02 | + | V | A | V | + | + | V | + | + | + | V | E | 88 |
VELVET KIDS


















S: WILLOW RUN BOTTICELLI TARRANT *B













SS: WILLOW RUN FRESCA BOTTICELLI +*B

SSS: KASTDEMUR'S FRESCA *B

SSD: GCH SINGING-HILLS DARKSTAR BRITNY 1*M




SD: SINGING-HILLS BLACKBERRY TART 1*M

SDS: FDF-PLEASANT-FIELDS MALACHITE +*B

SDD: SINGING-HILLS PFM BLACKROSE







D: KIRWAN'S PIERRE NO NONSENCE




DS: ROBIN-WOOD PIERRE TM

DSS: FDF-PLEASANT-FIELDS TALON MARK *B

DSD: ROBIN-WOOD MADELINE A




DD: CRAZY-HOLLOW NAMIBIAS NUISANCE 1*M

DDS: NICKEL'S CRAZYHOLLOW PEPERACHE *B

DDD: CRAZY-HOLLOW ZURICH'S NAMIBIA