"WINNER" DOB: 2/24/2006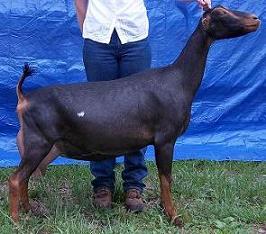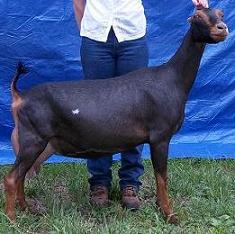 5 year old 4th freshening.
2011 has been Winner's year, 2 Grands, 2 Best of Breeds and 1 Best in Show at the Coffeyville KS show, her first two legs. Two weeks later at the Neosho MO show she got her third leg in the first ring winning Grand and Best of Breed, the next day she got Reserve Grand in the District 5 Specliaty.
Beautiful mammary, very well attached everywhere. Smooth foreudder, wide rear udder arch. Excellent teat placement and size. Easy to milk and milks out soft and complete. Long, uphill, sharp and wide. She is standing on strong feet and legs. Winner is another fine example of the great breeding Lucky*Star's sends out.
| | | | | | |
| --- | --- | --- | --- | --- | --- |
| Age | Lac | DIM | Milk | Fat | Protein |
| 2 | 1 | 154 | 2270 | 101 | 74 |
| 5 | 4 | 245 | 2628 | 91 | 82 |
| | | | | | | | | | | | | | | |
| --- | --- | --- | --- | --- | --- | --- | --- | --- | --- | --- | --- | --- | --- | --- |
| LA Year | Age | Head | Shoulder Assembly | Front Legs | Rear Legs | Feet | Back | Rump | Udder Texture | General Appearance | Dairy Character | Body Capacity | Mammary System | FS |
| 2008 | 02-03 | V | V | V | + | + | V | + | V | V | + | + | + | 83 |



S: ALTRECE AP VERY BERRY +B

Picture courtesy of Lucky Star Farm




SS: ALTRECE PEPITO

SSS: LUCKY*STAR'S TR SIDEWINDER *B

SSD: CH ALTRECE BREATHTAKING




SD: SGCH ALTRECE BRAMBLEBERRY

Picture courtesy of Altrece LaManchas







SDS: ALTRECE ZILENT WEAPON







SDD: TIMBER*COVE S BLACKBERRY KREAM

























D: LUCKY*STAR'S NATURAL TYCHE 2*M

Picture courtesy of Lucky Star Farm




DS: LUCKY*STAR'S 3D NATURAL +*B

Picture courtesy of Lucky Star Farm

DSS: ROCKSPRING DARK DUTCH DUO ++*B

DSD: SGCH LUCKY*STAR'S L DANDY 6*M

Picture courtesy of Lucky Star Farm













DD: SG LUCKY*STAR'S TR SERENDIPITY 1*M

Picture courtesy of Lucky Star Farm

DDS: TEMPO QK NOTTA ROSS +*B

Picture courtesy of Lucky Star Farm

DDD: LUCKY*STAR'S QM REQUEST

Picture courtesy of Lucky Star Farm