"YOLI" DOB: 3/01/2008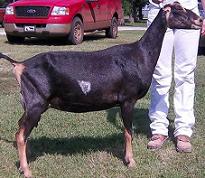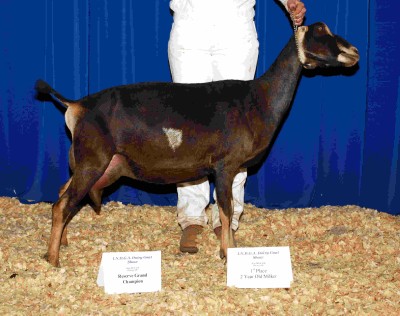 2 year old 2nd freshening.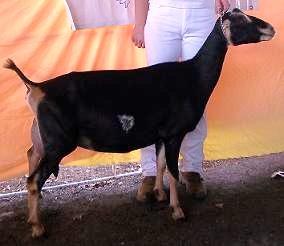 3 year old 3rd freshening.
Yoli won her third leg for her Championship in Pine Bluff AR also winning Best of Breed.
Nice straight legs with strong pasterns. A very wide level doe with a great spring of rib. A beautiful mammary, high wide rear udder, lots of fore. Her rump is very wide and level.
| | | | | | |
| --- | --- | --- | --- | --- | --- |
| Age | Lac | DIM | Milk | Fat | Protein |
| 1 | 1 | 70 | 540 | 35 | 16 |
| 2 | 2 | 269 | 1890 | 72 | 62 |
YOLI KIDS


















SS: ALTRECE AP VERY BERRY +B

Picture courtesy of Lucky Star Farm

SSS: ALTRECE PEPITO

SSD: SGCH ALTRECE BRAMBLEBERRY

Picture courtesy of Altrece LaManchas




SD: SGCH LUCKY*STAR'S QK A-LLURE 5*M

Picture courtesy of Lucky Star Farm

SDS: SGCH QUIXOTE KATE'S KAREEM ++*B

Picture courtesy of Lucky Star Farm

SDD: LUCKY*STAR'S C KARISMA 4*M
















D: SGCH OAKS WHISPER KWS WILD FLOWER 3*M










DSS: TIMBER*COVE D STUDLY DEW RIGHT







DSD: SGCH KRISHELLEN EZSPIRIT




DD: SGCH OAKS WHISPER A CARMELLO 2*M

DDS: LUCKY*STAR'S TR A-TREUS *B

DDD: SG SHEKINAH-LANDS KENDRA 1*M