GUERNSEY DAIRY GOATS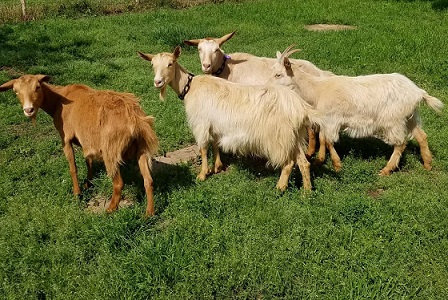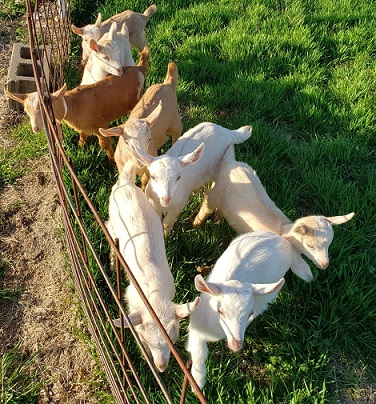 We started raising and showing LaManchas in 2009. Over the years we have had many CH(champions), SG(superior genetics), milk * does and +B bucks. Our herd has been on milk test and Linear Appraisal. As the herd grew in size it got harder to make it out to shows. In 2014 we became a Grade A licenced dairy and the herd continued to grow, getting up to 130 head. Early in 2019 we did a large herd reduction of the LaManchas due to the milk plant closing, keeping only a handful of our favorite does so that we can focus more on the Guernsey breed.
In 2016 we added our fisrt Guernsey buck(
Walela Liam
BG) to the herd to breed to the small group of eared does(1 Alpine, 3 Sables, 6 Saanens & 1 Toggenburg) we had. In 2017 we added our first BG doe(
Piurcreek Krumcake
) and a new BG buck(
Krembrulay Adonis
) to breed to Liam's daughters. 2019 is a very exciting year as we have the wonderful opportunity to use a true GG buck (
Swind Peacock
) on our girls. We have strived to breed quality LaManchas for longevity and milk. Dairy character and quality are first and foremost. We are breeding animals that milk and show, and for level lactations that are strong producers from beginning to end. Correct structure for a lasting dairy animal with sound feet and legs. With a well attached mammary system and good teat placement are very important to us and we plan to apply the same high standards in our Guernsey breeding program.
AKC REGISTERED DOGS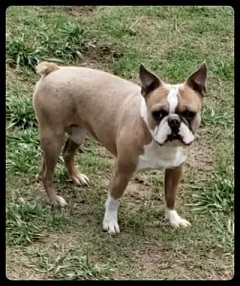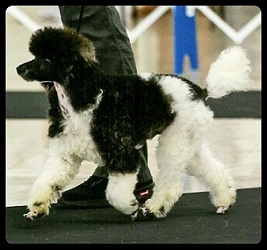 I started raising and showing Shiba Inu dogs in 2000. I competed in confirmation, obedience and agility. After 10 years I stopped raising dogs(for a time), got in to dairy goats and got married. My husband(Shannon) wanted a boxer, so in Nov 2010 we added our first boxer Abby. We raised boxers for many year, until Boston's came into our lives. In Nov 2014 we added our first pair of Boston Terriers, Max and Dixie. In 2015 we had our first litter of Boston puppies. While Shannon still prefers Boxers, I love the Bostons and slowly switched to raising just them and then later some poodles.
In 2017 my mom started raising Standard Poodles, in 2019 mom got her first Miniature Poodle. I have come to respect and enjoy the poodle breed more than I would like to admit and some have found their way over to our house. In Feb 2020 we get our first 2 Miniature Poodles. We raise Boston's and Poodle's of all colors except merle as that is not a color that was part of either breed originally. I love the colored Boston's and parti Poodle's, we do a lot of breedings for color while working to improve the quality of each breed. We are very excited to announce a new breed, the
Havanese
joining the family in 2020. We get our first one in June and are now hooked. Mom also has fallen in love and has 2 of her own now.
Shannon & Jenny Hopper
Vinita, OK
This website is built and maintained by Just Because Farms. All Rights Reserved. You may not copy pictures or print this site without express written permission from the Owner.